This proven surgical hair replacement approach uses your own existing hair.
Hair replacement candidates typically have healthy hair growth at the back and sides of the head to serve as donor areas. Transplant techniques, most importantly mini-grafts, micro-grafts, FUE, FUT, follicular unit grafts, slit grafts, and strip grafts are generally performed on patients who desire a more modest change in hair fullness. For patients who desire a more dramatic change, flaps, tissue-expansion and scalp-reduction are available.
This ArrivaGroups deal is for an unlimited number of grafts based upon "per session". This is absolutely the best value for your money. There is no Limit to the number of hair grafts for one low flat rate of $3980. This is the only deal we know of that is priced by the session and not by the graft. Whether you need 1000 grafts, 2000 grafts or more, this deal is for you. Both mini and micrografts are used which provides a perfectly natural look.
This deal includes a complete hair transplant procedure, all doctors fees, pre-op tests, anesthetist fees, pre-op consultation, post-op visits, normal hospital fees, medical supplies and post-op medications. There are no surprises. No deposit or prepayment is required. No down payment necessary! Good any time up to 1 year after the deal closes. Low priced airfare and accommodations are extra (see below). For full details on this deal, please click here. If further questions, please write to us at info@arrivagroups.com and reference deal number 314485.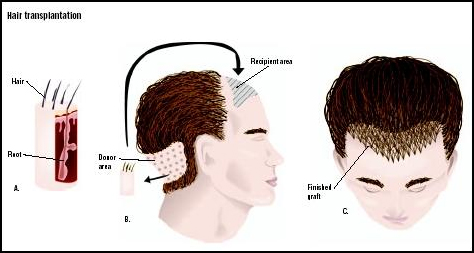 Compare this $4375 hair transplant procedure in beautiful Costa Rica to the very same hair transplant procedure costing $10600 or more in your area! You may combine a hair transplant with other procedures such as a face lift, forehead lift, an arm lift, a male breast reduction or other procedures. While you are at it, you may wish to consider liposuction, a neck lift, or other cosmetic enhancements since individual prices are always lower when combining procedures! If you wish a combination, please write to us at info@arrivagroups.com before ordering this deal and we will quote a combination price of all the procedures you have in mind. Then when ready, we will create a special link for you to order everything together.
Hair Graft Estimation Chart
Male pattern hair loss is a common situation in which men experience thinning of the hair on the scalp. This often results in a hair line that is receding and balding to the top of the head. The beginning of these changes can start for men as early as their 20's and in some rare cases 15 or younger. Physicians believe male pattern hair loss is dependent on hormonal effects and is due to heredity and dihydrotesterone.
The Term "hair grafts" is the same as "follicular units". Several variables determine the number of grafts necessary to fulfill hair replacement needs including the amount of hair that has been lost and the density of the donor area (the back).
Here are accurate, minimum, estimations of the number of follicular units you will need.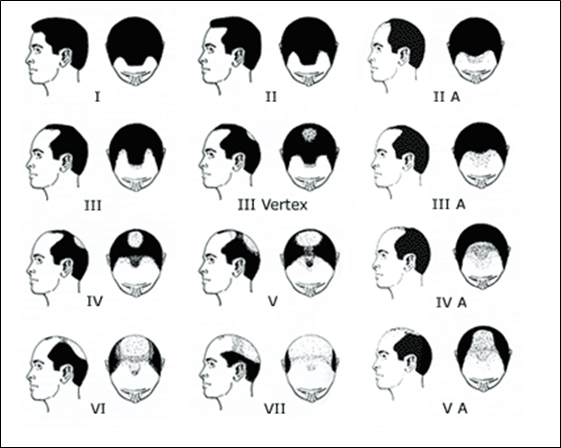 The above chart shows different areas of male pattern baldness. This ArrivaGroups deal of unlimited hair grafts is intended to provide complete coverage for your pattern. Some limits may apply based upon the amount of follicles available from the donor area, the appropriateness of the area to be covered with available follicles, or the patient's medical condition. If unsure as to whether you are a candidate for a hair transplant surgery, or if you have other questions, you may send pictures of the front, sides and back of your scalp to info@arrivagroups.com and we will reply with an opinion directly from the doctor.
Generally, women have a different pattern of hair loss, therefore it is best to send pictures so the doctor can quote a price before you select the deal.
The skilled hair transplant surgeons in Costa Rica are among the very best in the world. The latest technology and FDA-approved equipment are used for hair transplantation procedures, resulting in a redistribution of your natural hair and regaining the appearance of a more youthful head of hair as well as recreating the natural hairline for a younger-looking "you".
The Medical Group of Costa Rica®
The Medical Group of Costa Rica® has been supporting doctors in Costa Rica for over 15 years and is well-established in providing the absolute finest medical specialists for your treatments. All Medical Group of Costa Rica® doctors are board certified and have extensive experience and training in their fields. Most have American certifications in their fields and belong to major prestigious Costa Rica medical associations, including the Costa Rica Association of Plastic Surgeons (APSCR), the Costa Rica Association of Doctors and Surgeons (CMCCR), and the Costa Rican Association of Plastic, Reconstructive and Aesthetic Surgery (ACCPRE).
The surgery procedures in Costa Rica are exactly the same as in the U.S. with exactly the same FDA-approved materials and surgical skill, but at a fraction of U.S. prices due to a lower cost of living. The hospitals and clinics are incredibly advanced and the Plastic Surgeons have exactly the same high-tech technology as in the U.S.
Costa Rica is located right above Panama, and is one of the most modern and advanced countries in our hemisphere. It is just a quick 2.5 hour plane ride from Miami and averages $328 round trip. It is completely safe and beautiful, and the people are the friendliest in the world. Thousands of Americans come to Costa Rica each year for dental, plastic surgery and laser, and return over and over for more ArrivaGroups deals. With any ArrivaGroups deal you can be assured of the highest quality of excellence in all of the treatments you receive.
Your Trip
From the moment you arrive in Costa Rica, you will be our guest in this beautiful country. You will be met at the airport and taken care from the time you arrive until the time you leave. The air is crisp and clean and the mountains and beaches are simply breathtaking. The climate is the best in the world, and the modern cosmopolitan city of San Jose eagerly awaits your visit. Costa Rica is very "Americanized" with spacious malls, modern highways, high rise office buildings and incredibly beautiful tourist attractions. You will feel completely at home and thoroughly enjoy your medical vacation.
Accommodations
You will not need a car while in Costa Rica. Under their premium plan, you will be taken to all appointments and be thoroughly pampered at the beautiful Costa Rica Medical Center Inn where they specialize in professional medical care by a full staff of registered nurses. You will enjoy their beautiful rooms and first class amenities. All meals and medical assistance are included in their very low rates depending on your plan selection, as well as free high-speed in-room internet. The Costa Rica Medical Center Inn is a beautiful home away from home and offers a single daily rate of only $87.30 with cash discount when selecting any ArrivaGroups Deal.
Your Medical or Dental Procedures
Many people select medical, dental, laser, eye surgery and other deals together in combination since the costs are very low and everything can be done during the same trip.
For dental procedures, you will have an exam, x-rays, a dental plan created for you, and a full discussion with the dentist on the day following your arrival. Teeth preparation will also be performed on that day. Any dental surgery will begin the next day. A quick recovery is always expected for dental patients. If lab work is involved for prosthodontics, we will inform you in advance as to the length of time needed to complete the work.
For medical procedures, you will have your pre-op doctor's appointment the day after you arrive along with any tests needed. Surgery will follow the next day.
Laser procedures require a very short stay when having an ordinary in-office laser treatment. A stay of one or two days longer may be required if having a more intensive facial Fractional CO2 procedure. We will give you a time line when ordering a deal.
In all cases, your arrival, accommodations, appointments, transportation and departure will be fully coordinated by the Costa Rica Medical Center Inn. Full details will be sent to you after ordering a deal. Just leave everything to them. A Costa Rica Medical Center Inn driver will meet you at the airport upon arrival and take you to the inn. After dinner, you will spend a relaxing evening enjoying the pool, restaurant and grounds. During surgery recovery you will be thoroughly pampered and have ample time to enjoy sightseeing in and around the capital city of San Jose. The Costa Rica Medical Center Inn is centrally located in the most beautiful part of the city and is close to everything. Once you order an ArrivaGroups deal, a Medical Group of Costa Rica® patient coordinator will write you with all of the details of your trip including the number of days you will be here, and all questions will be thoroughly answered.
Your Return Home
The Costa Rica Medical Center Inn will coordinate your airline departure and return you to the airport for your trip home. Airport pickup and delivery is complimentary and included in their Premium rate when staying four days or more.
No Deposit or Pre-Payment Necessary!
You may travel to Costa Rica anytime within one (1) year after the deal closing date. You will have plenty of time to organize your trip. No deposit or pre-payment is required and the price of your surgery will be held for you until your arrival.
There is never an obligation to have the surgery, so if you are not a candidate for the procedure or if you decide later not to have the surgery, it is fine. The procedure will simply not be scheduled. Please see the Rules that apply to all deals.
For complete details on this deal, please click here. If further questions, please write to us at info@arrivagroups.com and reference deal number 314485.
If not sure whether the procedure is right for you, please write before selecting the deal and we will get the doctor's opinion. If combinations of different surgery procedures interest you, please write with the combinations you wish and we will promptly reply with a price quote.
Costa Rica Medical Center Inn
ArrivaGroups is fortunate to have the services of the Costa Rica Medical Center Inn who offer excellent accommodations and provide registered nurses to take care of medical and dental patients visiting Costa Rica. They are a first class surgery recovery inn located just minutes from major hospitals and dental centers in the beautiful capital city of San José, Costa Rica. They offer a variety of rates including those with all meals, airport pickup and delivery, all transportation to doctor and dentist appointments, and all medical supplies included. They take care of everything including coordinating appointments, managing post-op recovery, and making sure you have a wonderful, relaxing time during your stay. There is much to do and see in beautiful Costa Rica and tour buses pick up at the front door for amazing sightseeing adventures. Complete surgery, airfare, accommodations, tours and spa packages with optional no money down monthly payments are available through the Costa Rica Medical Center Inn. Just give them your proposed arrival day and they will do all the rest. Please write them at info@costaricamedicalcenterinn.com You may also check room availability here for your dates.
Please write with any questions!
ArrivaGroups®, De La Esquina N.E. Parte Atras Maria Auxiliadora
25 Norte, San José, Costa Rica, Tele: 011-506-2234-5172
Email: info@arrivagroups.com , Web site: www.ArrivaGroups.com